Security Service Villas, Resorts. Thanh Long Security Company is a professional security service provider. Our company was established in 2009 and now has more than 1000 security guards throughout the provinces and cities across the country, with a large concentration of employees, especially in central central provinces such as Da Nang city and Quang Nam province. Ngai Thua Thien Hue, in the South there are the provinces of Binh Duong, Dong Nai, Long An and Ho Chi Minh City...
Security service Resort - Resort and spa of Thanh Long Security Company with a team of professional security staff, has provided security for private housing construction, security for hotel buildings , protect the construction of National Highway 1A, protect the resort...
Here are some pictures of large-scale construction protection work in Da Nang city.

Hình ảnh bảo vệ Thành Long: Tiếp nhận Nhiệm vụ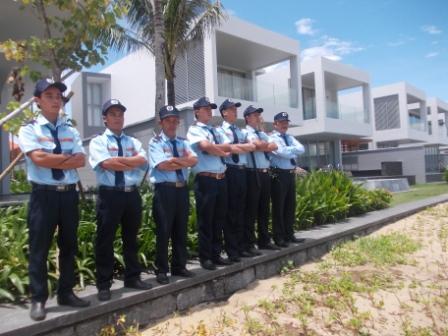 Hình ảnh bảo vệ Thành Long: Triển khai đội hình bảo vệ

Hình ảnh bảo vệ Thành Long: tổ chức tuần tra

Hình ảnh bảo vệ Thành Long: Bảo vệ chốt giáp ranh địa giới Quảng Nam và Đà Nẵng

Hình ảnh Khu vục bảo vệ nhìn từ mặt biển